to treat every customer as part of the family. Building personal relationships. Looking out for their interests as well as your own. Doing what's fair. Forty-four years after Wayne Kuni opened his very first car dealership, that's still the way it feels to walk into a Kuni store today.
Kuni Automotive currently operates 15 luxury dealerships in four western states with over 1250 employees. Our company has grown and thrived over the years, thanks to an unwavering focus on
our guests and associates, savvy product alignment, insightful location development, meaningful community involvement, lots of hard work and just a little bit of good fortune.
Our story began in 1970, when Wayne Kuni took the risk of a lifetime. After working
15 years as the Investment Manager for Motors Holding, a division of General Motors, Wayne left to open Kuni Cadillac in Beaverton, Oregon. Over the next 35 years, through a series of well-planned acquisitions, Wayne Kuni leveraged that one dealership into a successful holding company with nine locations in four different states.
We're proud that our company has earned not only the respect of our customers, but that of our employees, our manufacturers and even our competitors. Every day, we are inspired and challenged by the single standard that drives everything we do here at Kuni Automotive: We are Powered by Excellence.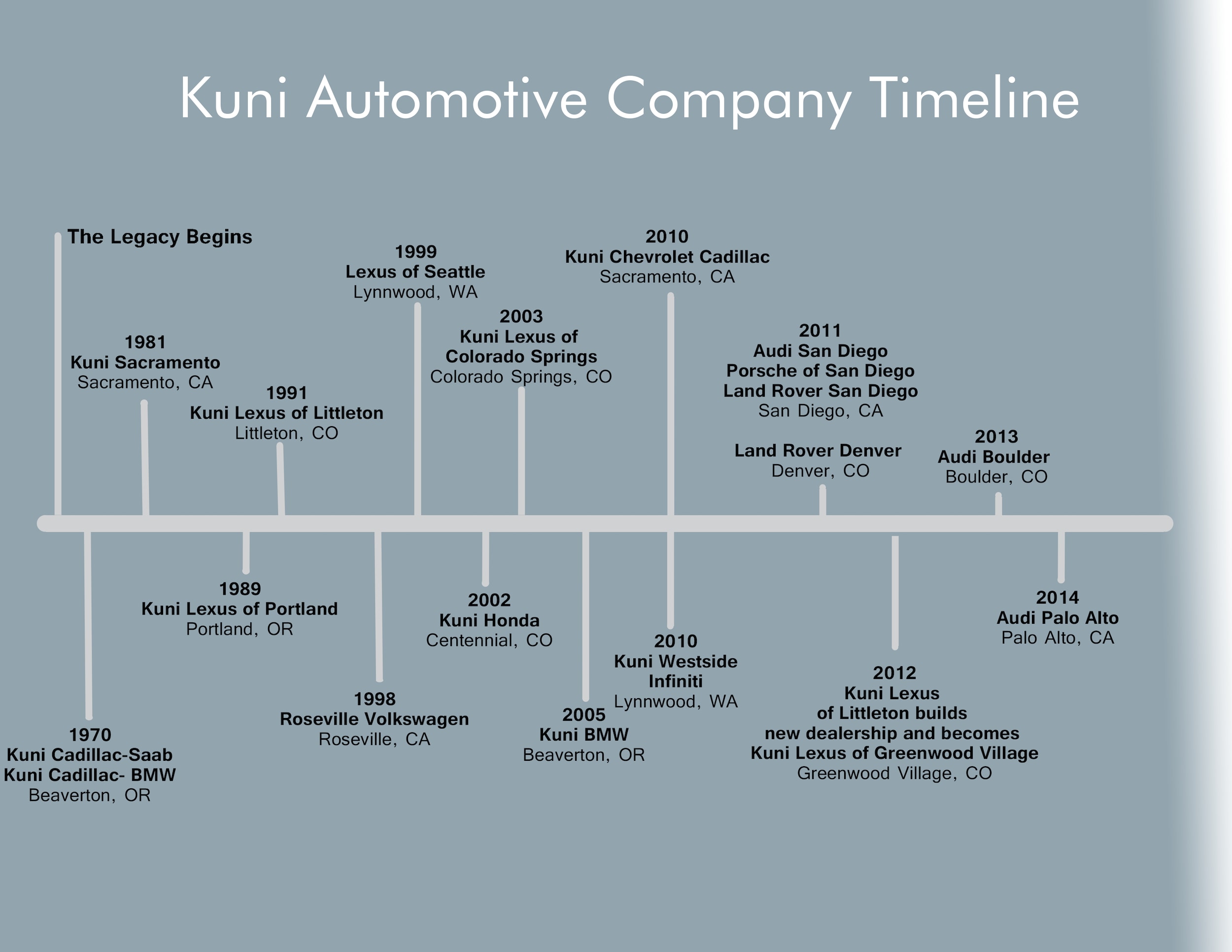 1970 - Kuni Cadillac opens in Beaverton, Oregon. Shortly after, a BMW franchise is added at the same location.
1981 - Kuni acquires what will become Kuni Sacramento in Sacramento, California.
1989 - Grand opening of Kuni Lexus of Portland, one of four Lexus dealerships owned by Kuni Automotive.
1991 - The company acquires Kuni Lexus in Littleton, Colorado.
1998 - Roseville Volkswagen opens in the Roseville Auto Mall, one of the busiest auto malls in America.
1999 - Kuni acquires its third Lexus franchise, Lexus of Seattle.
2002 - The company acquires Empire Oldsmobile Honda in Denver. The dealership is relocated and renamed Kuni Honda.
2003 - Kuni Lexus awarded a satellite dealership, Kuni Lexus of Colorado Springs.
2005 - Kuni BMW splits from Kuni Cadillac Saab and moves to a new location on Canyon Road in Beaverton, Oregon. Lexus of Seattle moves to a new facility
           across the street from its original location. 
2010 - The Kuni Automotive group purchases Daugherty Chevrolet and becomes Kuni Chevrolet Cadillac
2010 - Kuni Automotive opens their first Infiniti dealership in Lynnwood, WA, Kuni Westside Infiniti.
2011 - Kuni Automotive acquires 5 dealerships now named Audi San Diego, Porsche of San Diego, Land Rover San Diego, Land Rover Denver. 
2012 - Kuni Lexus of Littleton completes construction on new dealership. Kuni Lexus of Littleton becomes Kuni Lexus of Greenwood Village.                              
2013 - Kuni Automotive acquires Audi Boulder.
2014 - Kuni Automotive acquires Audi Palo Alto.
Kuni employs over 1,280 employees in California, Colorado, Washington and Oregon.                                                                                                                                                                   
At our San Diego, Sacramento, Portland, Seattle and Denver car dealership's, we offer new BMW, Lexus, Honda, Audi, Porsche, Land Rover and Volkswagen cars, along with quality used cars, trucks and SUVs by some of today's top auto manufacturers. Regardless of whether you're looking to by new or used, our auto sales staff will help you find that new or used car you have been searching for.
For years, the auto financing staff at our Kuni Automotive dealership's has offered expert advice for those seeking a great 
BMW, Lexus, Honda and VW car loans or leases
. And our service doesn't just stop there. Seattle WA, Portland OR, Sacramento CA, San Diego CA and Denver CO area customers can come in and take advantage of our knowledgeable
BMW, Lexus, Honda, Audi, Porsche, Land Rover and Volkswagen car repair
 technicians and our fully-stocked inventories of
BMW, Lexus, Honda, Audi, Porsche, Land Rover and Volkswagen car parts
. Visit our
Dealership Locations
page to find a Kuni Automotive dealership near you today. We're more than happy to answer any questions about your next new or used vehicle purchase! You can reach Kuni Automotive any time by filling out our
contact form
, by calling us, or by simply visiting one of our
BMW, Lexus, Honda, Audi, Porsche, Land Rover or Volkswagen dealerships
in Washington, Oregon, California or Colorado.